Each time I think that being at work cannot possibly get any more boring, I'm unpleasantly surprised to find out that indeed it can. Due to severe storms, we lost power yesterday afternoon around 3:30 p.m. Unlike the last time we lost power, this time we were not allowed to leave early, so we sat in the lobby for an hour and a half for no reason.

It's bad enough that we don't have any work. Without power, we don't even have our computers (and hence the Internet) to keep us amused.

Due to some miracle, I actually managed to get to work at 8:00 this morning, instead of my usual 8:15. Of course, our power was still out, so that just meant I had an extra fifteen minutes of absolutely nothing to do. The guys out in the shop were finally sent home at 8:30 (they come in at 7:00, so they had been here for an hour and a half), but we lucky office folk had to stick around. The power finally was restored around 9:30, and the computers were ready to go around 9:45.

I was really hoping to go home, but it didn't sound like we were going to be allowed to do that even if the power stayed off all day. That being the case, I'm extremely glad it did come back. Having the computer to amuse me is a nice touch, but the air conditioning was a necessity. None of the windows here can be opened, and it was starting to get pretty warm in here.

Some photos from the baseball game in Cleveland this weekend: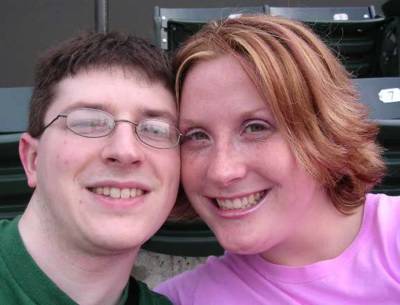 If you look closely, you can see Cleveland's skyline in my glasses.



Ohio makes good athletes: Junior and Lebron (in the green suit)



(Sean) Casey at the Bat

I'm not totally crazy about cluttering up this page with photos when I post them, so I'm considering the idea of creating a separate page for them. I'd just post photos on this page when they were relevant to whatever I was talking about, which is pretty rare. Most of the time I've been posting photos just to post them, so it would almost make sense to have a separate photo-blog. I might go crazy with it, but hey, if Blogger is going to host these photos for free, I might as well take advantage of it.

Being a Reds fan has been extremely frustrating over the past several days. They keep taking leads early, then losing them late. They're currently on a seven-game losing streak. Pitching has definitely been a problem, particularly the bullpen, but I think the most glaring weakness is a lack of clutch hitting. The offense has been leaving a lot of guys on base. Griffey and Dunn are near the league lead in home runs, but neither is hitting for a high average. A lot of other guys are hurt: Barry Larkin, Austin Kearns, D'Angelo Jimenez. This weakens the lineup a lot. Hopefully they'll be back soon and ready to contribute. Getting Aaron Harang back in the rotation will also be good. They aren't world-beaters, but I feel that a rotation of Paul Wilson, Cory Lidle, Harang, Jose Acevedo, and Todd Van Poppel is, at least, fairly solid. If the bullpen can hold a lead, that is.

While we're talking about the Reds, I'd just like to say that Brandon Larson has done nothing to show me that he's a viable Major League Baseball player. He tears up Triple A when he's there, but hasn't hit a thing for the Reds. When Kearns and Larkin get back to the lineup, I hope manager Dave Miley keeps Ryan Freel in the lineup and plays him at third base and sends Larson to the pine, or better yet, sends him down to help out Louisville. Wily Mo Peña, on the other hand, is doing a decent job with the opportunities he gets. I don't think he's ready to be an everyday player, but he's definitely an asset to the thin bench.

I saw the clip yesterday of the schmuck at the Cardinals-Rangers game in Texas who dove into the next row to retrieve a foul ball, nearly crushing a four-year-old kid in the process. The kid's dad, it's worth noting, was in the process of picking the ball up for his son when this moron came crashing down and stole it from him. The kid's mom whacked at the guy with her program, but he didn't seem to notice or care. He kept the ball, but apparently didn't stay for the whole game. Players from both teams sent some gifts for the kid to make up for the guy taking him out and stealing the ball. The video of the incident is all over the place, so hopefully the guy will have a hard time living it down. What an idiot.

A note to the Detroit Pistons: please defeat the Los Angeles Lakers tonight in Game 5 of the NBA Finals to win the championship and bring the season to a close. For one, I greatly dislike the Lakers and I'm ready to see them lose. Beyond that, the NBA regular season ended over two months ago, and the playoffs are dragging on forever. It can all end tonight if Detroit closes it out, and for that I would be most grateful.

Flipping through the channels last night, I stopped for a little bit on C-SPAN, of all things. They were replaying a reception at the White House for the unveiling of the portraits of former President Bill Clinton and first lady Hillary. It was almost surreal to see the Clintons and Bushes sitting next to each other and saying nice things about each other. I can't imagine that was a comfortable situation for anyone involved. Maybe I'm wrong. It's hard to believe it was only four years ago that Clinton was in power. It seems much longer than that. Maybe that's because the current administration is so inept.

Speaking of channels, I'm thinking of making the move to digital cable. I've been wanting a DVR for quite awhile, but I can't get TiVo because it requires a phone line and I only have a cell phone. Digital cable would only be a couple more bucks per month over what I'm paying now, and I'd get a couple of movie channels and the digital sports tier, as well as the DVR. It might not be a bad idea to wait until I move into my new apartment in August, but I'd really like to do it now if it isn't going to be too much of a hassle.