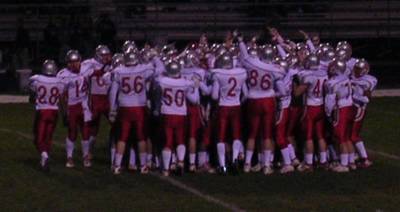 So it ends.
Going into this game, I wasn't sure what to expect. I knew Troy was tough, but I knew virtually nothing about Westerville South. I had read about their speed and talent, but that was all. I had no way of knowing if the Trojans could hang with them or if we were simply out of our league. As the game went on, it became more and more clear that the Trojans could play with this team.
Troy's defense played an outstanding game. Unfortunately, the offense just couldn't get anything going. They shot themselves in the foot time and time again with penalties and negative-yardage plays at inopportune times. Coupled with the field position struggles they had all night due to the explosive leg of South's kicker, that was the ballgame. Both teams put up similar numbers in offensive yardage, but South was able to convert that yardage into points whereas Troy was not.
In years past I would have been almost relieved at this point to see the season end. I invested so much of myself in the Trojans and cared so much that I was ready for a break. This season it's not like that at all. I still care a great deal, but I try to just enjoy the games for what they are. This season was a great ride. I had no idea when the season began that this team would turn out to be so good and so much fun to watch.
I got to see Cody Boyd emerge and become one of Troy's all-time great tailbacks. I saw some electrifying plays from A.J. Bush to Shane Carter. I watched Todd Denlinger, Ryan Custer, and Andre Butcher stuff other teams' running backs. I saw Carter and David Hammond and Marcus Couch laying out to bat down passes and pick them off. In short, I got to see the re-emergence of Troy football as a powerhouse.
Now, instead of relief that the season is over, I can only feel proud of what this team accomplished, along with a sweet sadness that it's over. I wish they could have pulled it out against Westerville South so I could go see them play again next week. I already miss it.
Next season kicks off on Friday, August 26, 2005. Let the countdown begin!